The Fortris guide to Málaga
November 10, 2022
13 min read
Málaga: not only is it home to a thriving tech scene and hailed as one of the best small cities in the world, it's also a great place to live.
Fortris HQ is proudly located in the heart of Málaga, and our fast-growing team is always sharing recommendations of things to do and places to go. We've put together this guide to capture all those tips in one place.
Whether you're new in town, just passing through or perhaps considering relocating here (did we mention we're hiring?) we hope you find it useful. Let's dive in!
Top Málaga sights
With a history dating back 3,000 years, Málaga has its fair share of historic monuments.
"The city center is awesome, but I particularly love the Roman Theatre," says Eduardo from our Customer Support team. This site is free to visit and makes a spectacular backdrop for photos – especially as the towers and turrets of the Alzacaba can be seen above it, and both sites are floodlit are night.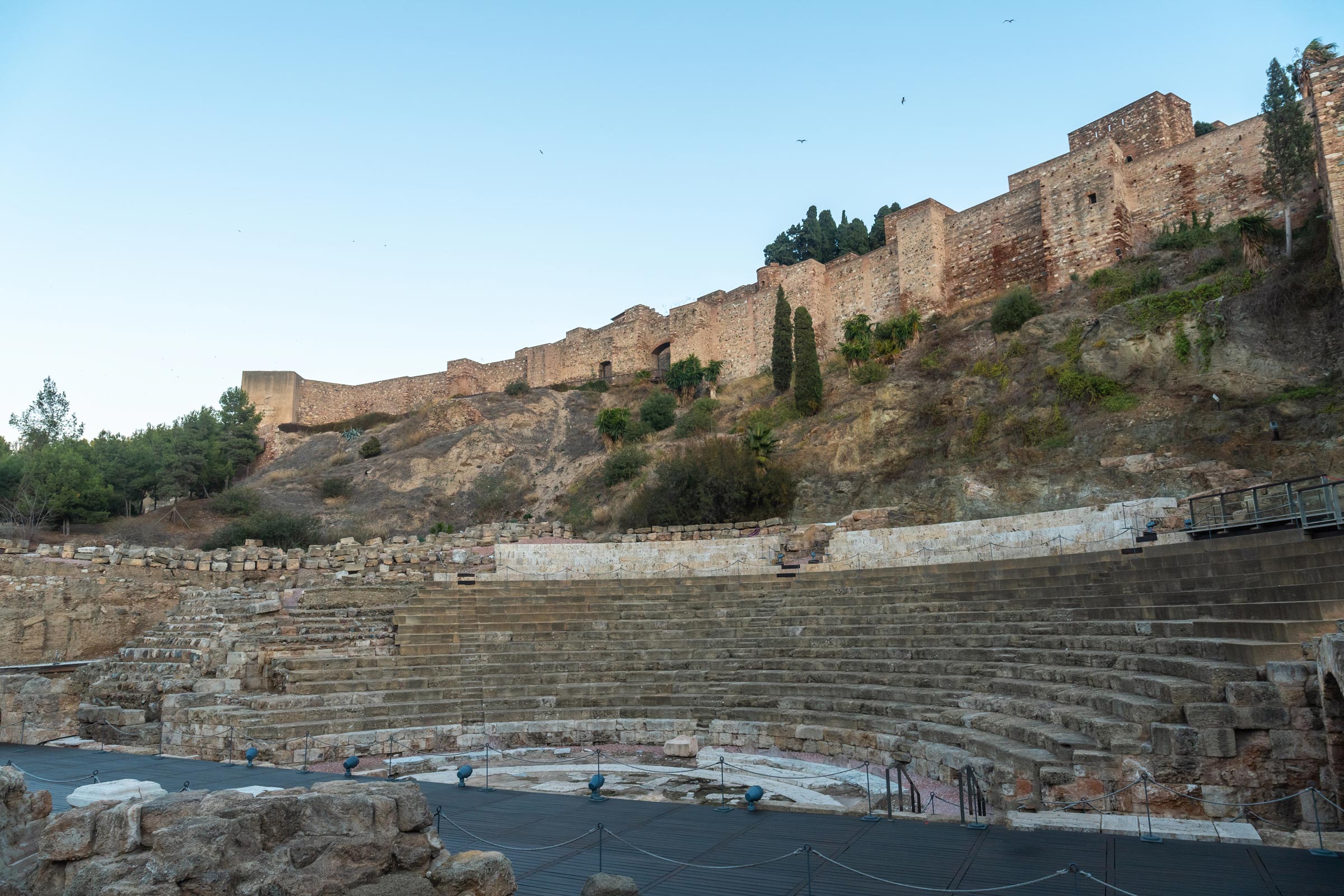 Málaga's Roman Theatre with the Alcazaba rising above it.
Located on the slopes of Mount Gibralfaro, the Alzacaba is one of the best-preserved fortified palaces from southern Spain's Islamic era.
You can buy a combined ticket for the Alcazaba and the Castle of Gibralfaro, located further up the hill. Customer Support Analyst Dean highly recommends a visit to this historic site, which has panoramic views over the city and port and the wider Costa del Sol. Entry to both the castle and the Alcazaba is free on Sundays.
If you fancy combining your sightseeing with some exercise, DevOps engineer Adrian suggests this walking route from the center of Málaga to the Castle and back again. "It's a very good walk, accesible to everybody. If you go in the evening, you might also like to book a table in the restaurant Parador de Gibralfaro."
Exploring the city
If hiking isn't your thing, an alternative way to explore Malaga is to hop on a Segway tour. Customer Success Manager Holly describes this as "a great way to see the city, especially in the summer heat! It's a fun family activity too."
E-scooters, which can be hired through the app Dott, are another fun way to get around. Eduardo (Customer Support) recommends taking one from La Malagueta beach to El Palo, to enjoy the sea views and visit some of the city's most popular beaches.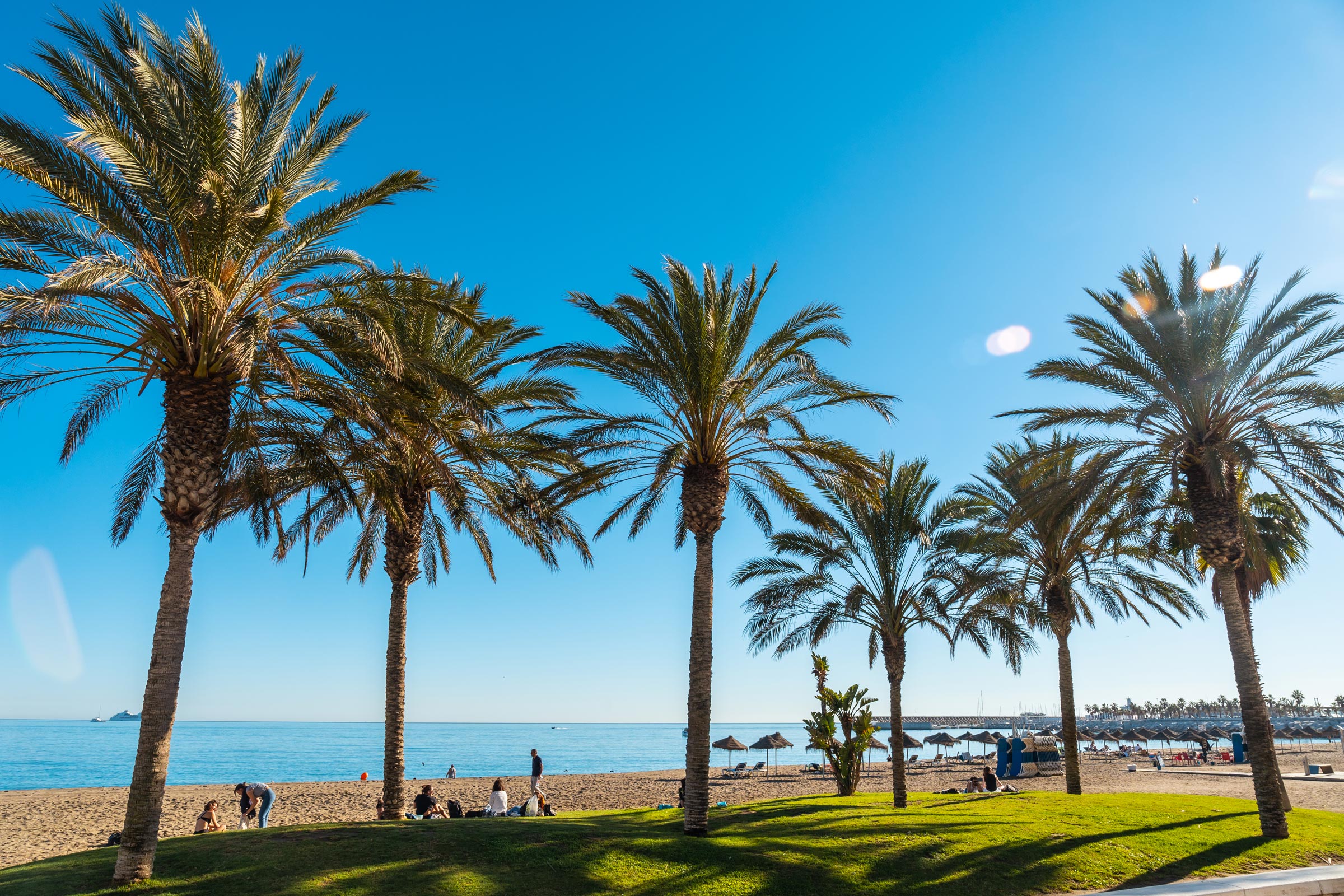 Malagueta beach: one of several beaches within walking distance of the city center.
Outside the city
If you're exploring further afield, Digital Product Designer Jose recommends a visit to the Cueva del Tesoro in Rincon de la Victoria, believed to be the only underwater cave in Europe and also an archaeological site. "It's less well known than the Nerja caves but well worth a visit," Jose says.
To the west of Málaga city is Castillo de Colomares. This landmark is a "mandatory visit" if you're in the Benalmádena area, according to Eduardo.
No visit to Málaga province would be complete without visiting some of the famous pueblos blancos, the whitewashed villages nestled in the Andalucian hills. Some of the best-known include historic Frigiliana and Mijas Pueblo, while Jose recommends Genalguacil – "a really beautiful, cozy and tiny village with streets full of art".
Eating and drinking
Timeless classics
It's no surprise that much-loved restaurant El Pimpi has been recommended by multiple members of the team. Data scientist Rosa enjoys the traditional atmosphere and many photos of famous visitors from around the world, while Eduardo describes it as simply "iconic".
Another popular choice is Antigua Casa de Guardia. Filled with old wine barrels, this classic tavern was founded in 1840. Cris (Marketing Coordinator) enjoys the traditional atmosphere while Rosa recommends their fish tapas and range of local wines.
La Tranca is a firm favorite with the Fortris team. The walls covered with albums by Spanish pop and flamenco stars of the '70s and '80s give it a special character. It's always crowded, says Executive Assistant Carmen, but "don't panic – the nicest waiters are there to rapidly find you a spot and serve you a cold Victoria (beer)."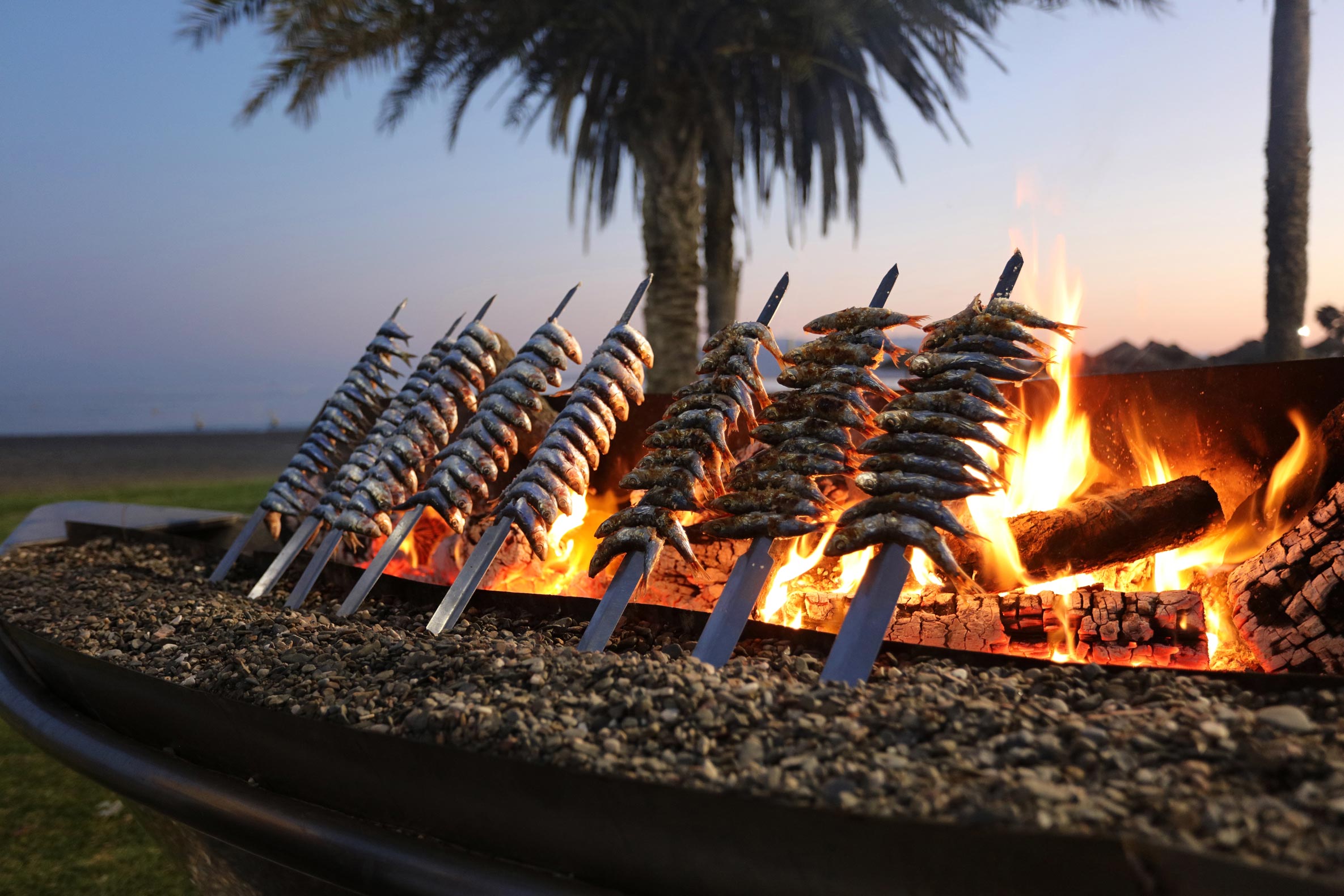 A classic Málaga scene: espetos of sardines grilling over open flames.
One of the enduring symbols of Málaga is the espeto, a skewer of fish or seafood (the classic option is sardines) grilled over flames at a seaside restaurant or chiringuito (beach bar). There are many places to sample these, but Ana (People & Culture team) recommends El Merlo: "They have the cheapest espetos in Malaga at 2 euros each, and they are very good quality."
Speaking of chiringuitos, Salvador (IT Support) recommends two in the nearby beach town of Rincon de la Victoria: Al Rolo and La Inopia.
Cool and contemporary
We think it's particularly on-brand that our Innovation Manager, Antonio, chose Oleo Restaurante in Málaga's Contemporary Art Gallery (CAC) as his top restaurant tip. After taking in some innovative art, Antonio likes to visit the restaurant's "awesome" sushi bar.
Not far from the CAC in the arty neighborhood known as Soho is another popular choice for the Fortris team, Taberna la Pechá. (Fun fact: "pechá" is Málaga slang for "a lot"). DevOps Engineer Adrian is full of praise for the high-quality tapas, and Content Manager Amy recommends the house blend of garlic-infused vermouth.
If you're in the historic center and craving tapas with a contemporary and experimental twist, Marketing Coordinator Cristina suggests a visit to Taberna Uvedoble.
Vegetarian and vegan
Looking for vegetarian and vegan options in Málaga? You're in luck – our Product Design Team Lead Analia has ALL the tips.
Her recommendations include Mimo, which is strictly vegan and has a seasonal menu with organic ingredients; La Vegana, which serves vegan versions of typical Spanish tapas, and Alcasabar ("Nice vegetarian options, good drinks and an outdoor space").
Also on Analia's go-to list for vegetarian food are El Vegetariano de la Alcazabilla and Byoko, which she particularly likes for its organic and local ingredients.
For Moroccan-style vegan food, Analia recommends Vegan te La Siria, and for breakfast/brunch and coffee, her hot tip is Dulces Dreams: "It's a hostel and coffee shop with a nice, small terrace, and it's not very well known."
"Afterworks" with a view
If there's one thing the Fortris team loves, it's a roof terrace. We're such fans of the Málaga skyline that we held our annual summer party at one (La Terraza de San Juan).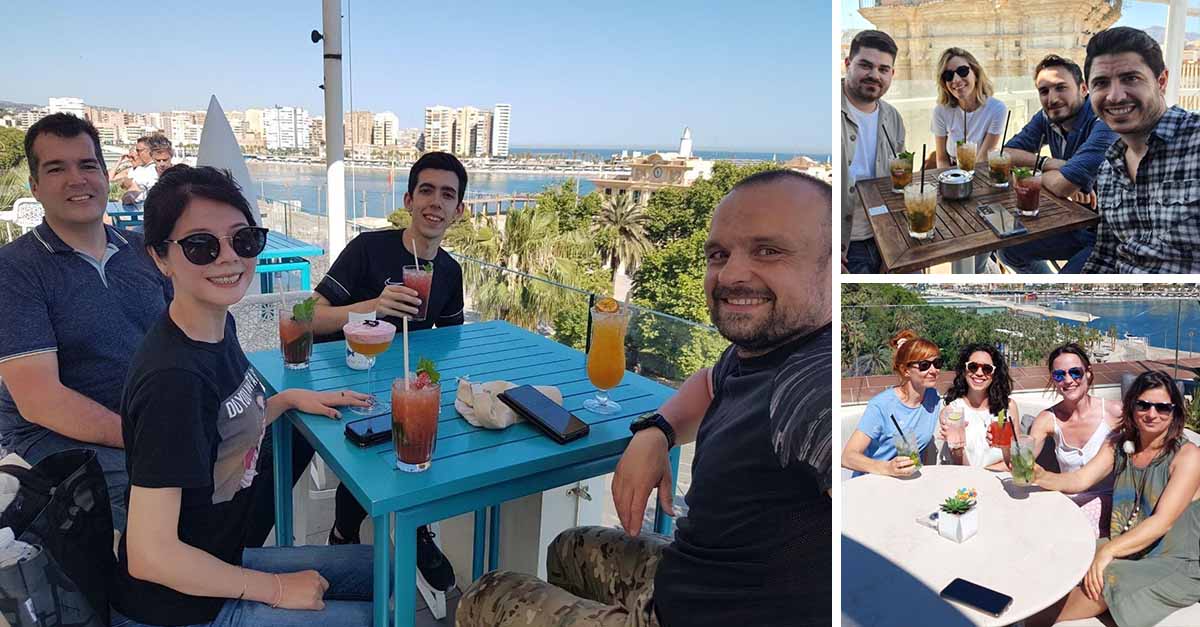 Clockwise from left: Fortris team members enjoying the views from Hotel Room Mate Valeria, La Terraza de San Juan and Only You Hotel.
Other tried-and-tested roof terraces include those of the Only You Hotel and Hotel Room Mate Valeria, both of which have stunning views over the Port of Málaga.
Just outside the center, the 100-year-old El Balneario is a Málaga classic and has a huge terrace with sea views, plus live music on weekends. It comes highly recommended by Ana from our People & Culture team.
Something sweet
No Fortris guide to Málaga would be complete without a nod to the office favorite when it comes to birthday treats: Casa Kiki and their giant palmeras the size of your head.
Which flavor is best? The debate rages on, but Kinder and Oreo are both strong contenders among our sweet-toothed colleagues.
When it comes to ice cream, Casa Mira is another icon of Málaga that we couldn't possibly leave out. This family-run chain has several locations throughout the city.
Sports and leisure
Nature walks and hiking
If you're looking to escape the summer heat (and the city), our Maintenance Manager Jose has a great tip. Barranco Blanco is a river walk located between Alhaurín el Grande and Coín, set in stunning scenery with a series of pools and waterfalls along the way.
Málaga's Jardin Botanico La Concepcion is another cool oasis and it can be reached by public transport. In addition to strolling through the gardens, there is a walking trail that takes you along a path above the site with great views of the Málaga coast. This route is highly recommended by hiking fan Eduardo, especially in the early evening.
For a longer route, Eduardo suggests the Sendero Picapedreros in the Montes de Málaga Natural Park. This route starts in the Málaga suburb Ciudad Jardin and is 10km long. "The path is very easy to follow and people usually cycle or walk in family groups. It's best to go in the early morning during summer, but you can always find some shade in the trees nearby," he says.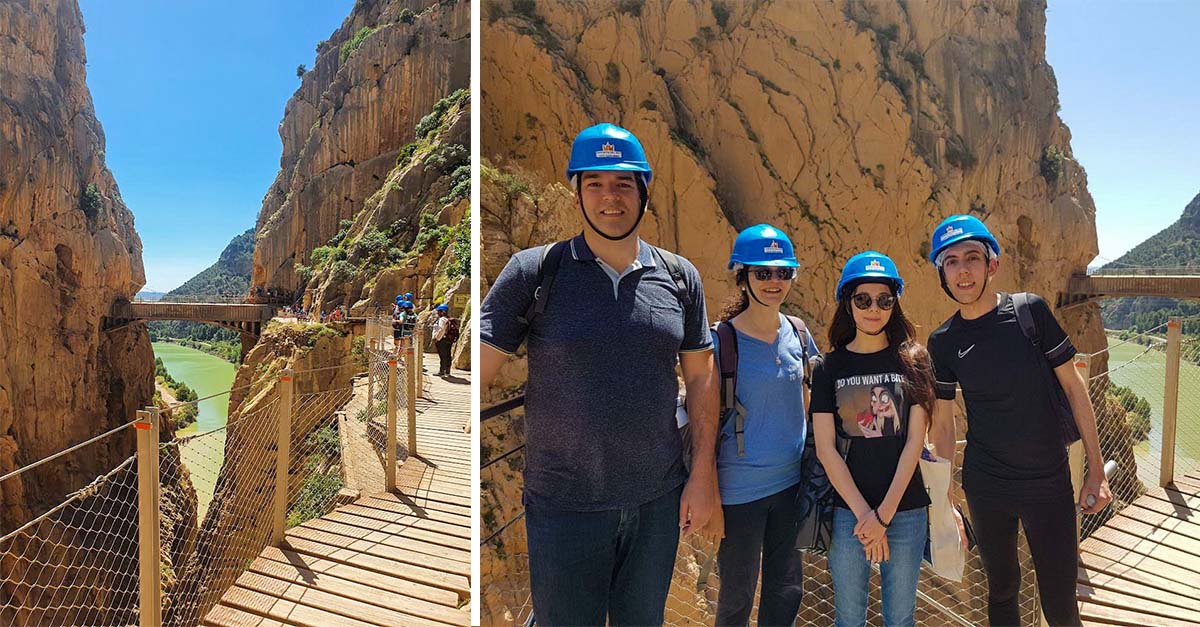 The Fortris Data and Analytics team walked the Caminito del Rey as their teambuilding exercise.
Perhaps the most famous hiking trail in Málaga province is the Caminito del Rey. Our Data and Analytics team tackled this for their teambuilding (shown above), and very much enjoyed the stunning scenery and views from the paths and bridges.
Spectator sports
Customer Support Analyst Dean is a keen supporter of Málaga's professional basketball team Unicaja Baloncesto. "It's a very good standard of basketball and the arena (Palacio de Deportes José María Martín Carpena) has a really good atmosphere".
Dean is also a regular at La Rosaleda, home to Málaga CF, along with other members of the Fortris team. "The tickets are a very reasonable price, and it also has a good atmosphere".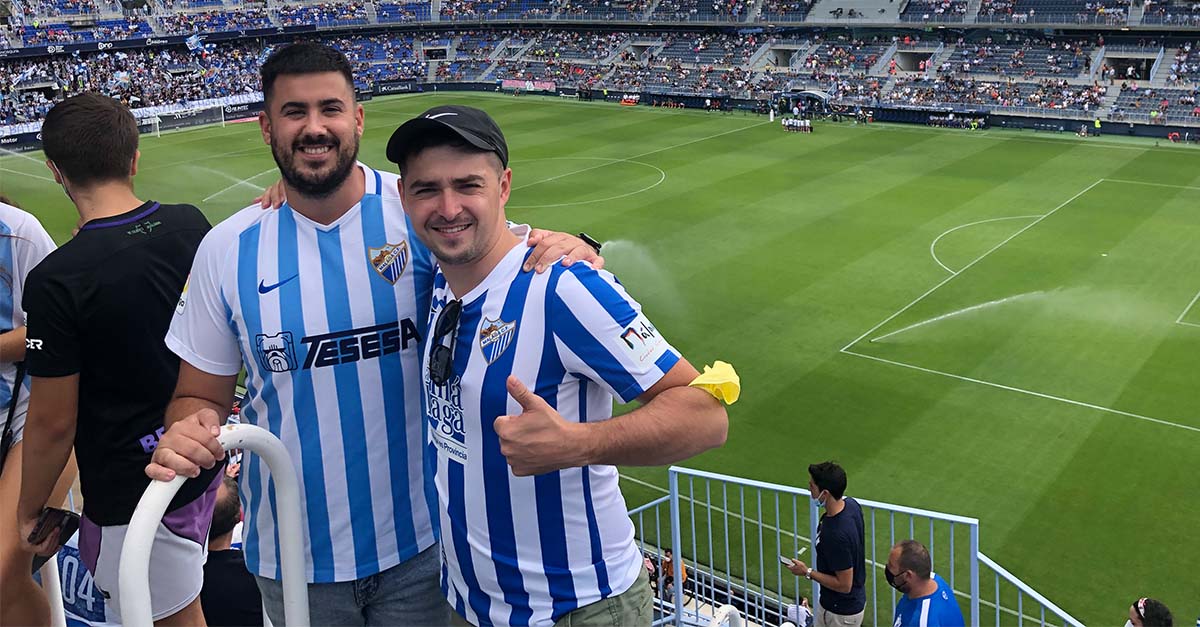 David and Victor from Fortris supporting Málaga CF at the Rosaleda.
Motorsports
For an excursion with a difference, Liudvikas in our security team recommends a visit to Ascari Race Resort in nearby Marbella, a racing track where motorsports fans can get behind the wheels of some seriously fast cars. For an extra-special outing you can even fly there by helicopter!
Special events
When it comes to events and festivals, there is ALWAYS something happening in Málaga. From Carnaval and the Málaga Film Festival early in the year, to the spectacular Semana Santa processions and the fireworks of the Noche de San Juan.
Perhaps the biggest of them all is August's Feria de Málaga, which returned this year after two years off due to the pandemic.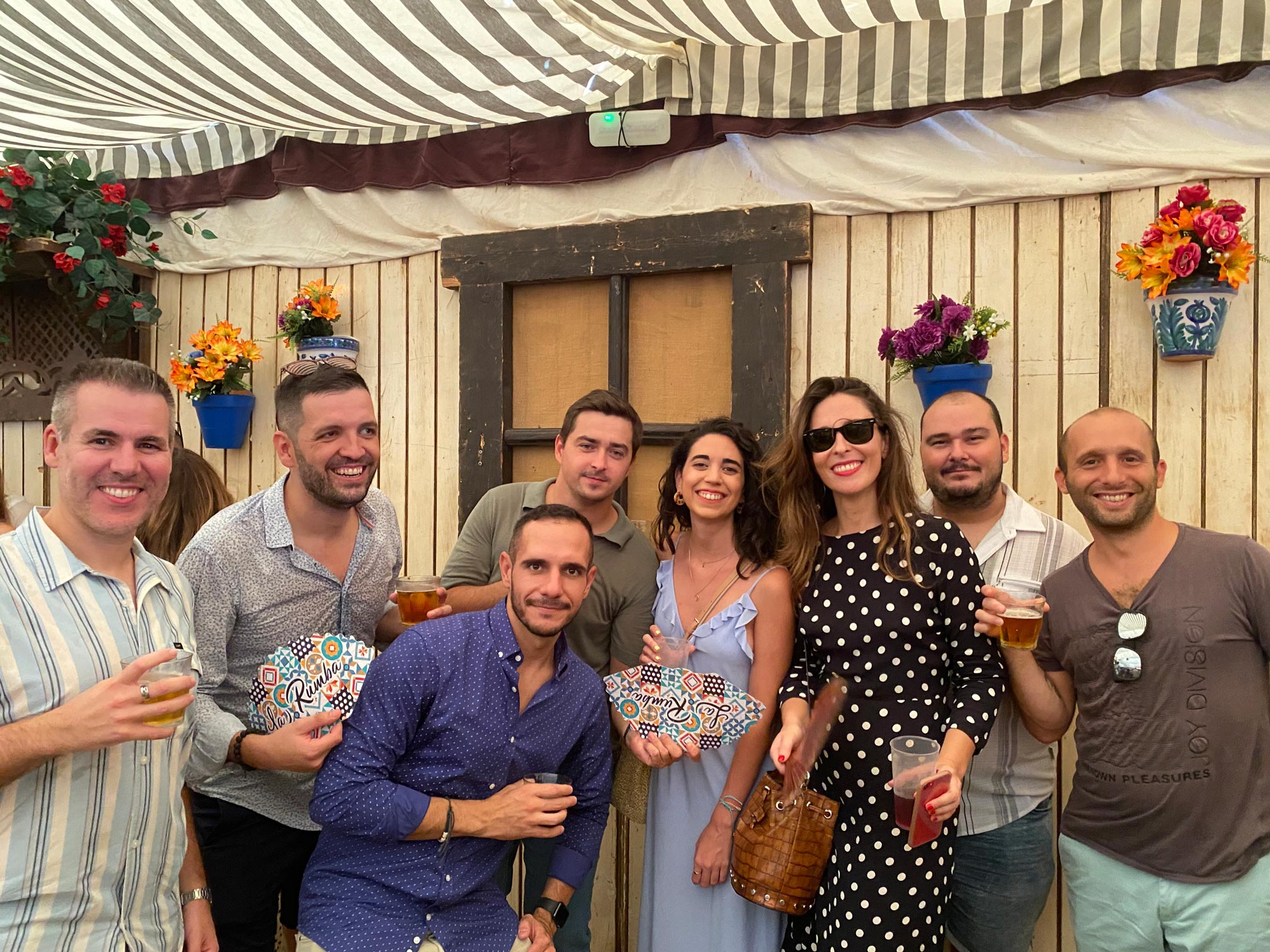 The Fortris team celebrating at Málaga's Feria.
If you're not in town in August, fear not. You can experience a little taste of the feria at the restaurant La Sal y el Son, which recreates the décor and atmosphere of this annual event year-round. Thanks to Marketing Coordinator Cristina for this tip!
Málaga is justifiably proud of its famous Christmas lights, and Data Scientist Ismael strongly recommends being there for the dramatic moment when they switch them on.
Finally, we must give a special mention to Málaga's tech events. These include J on the Beach, southern Europe's biggest conference focused on Big Data, and Biznagafest which is organised by the Google Developers Group in Málaga.